Shutters or Blinds – Which Should I Choose?
So the time has come to do some much needed home improvements and you have a choice between choosing shutters or blinds.  Whichever room you look to refurbish, window treatments will be a key consideration.
Curtains aside, how you style your windows usually boils down to a choice between plantation shutters or blinds.  Whilst both have very distinctive differences, they also share some similar characteristics.  As a consequence, choosing between the two isn't always an open and shut case.  
We will take a look at the advantages and disadvantages of each to help you make the right choice when carrying out your home improvements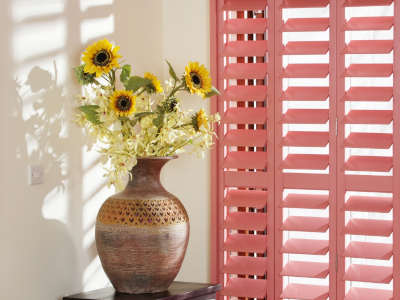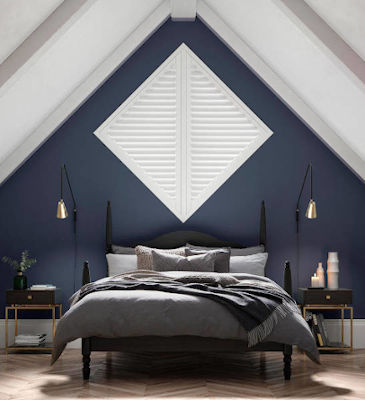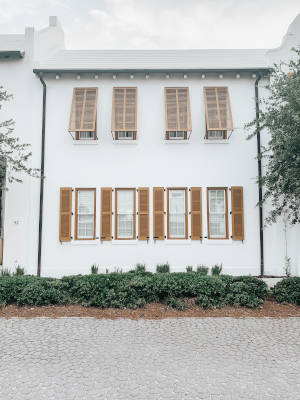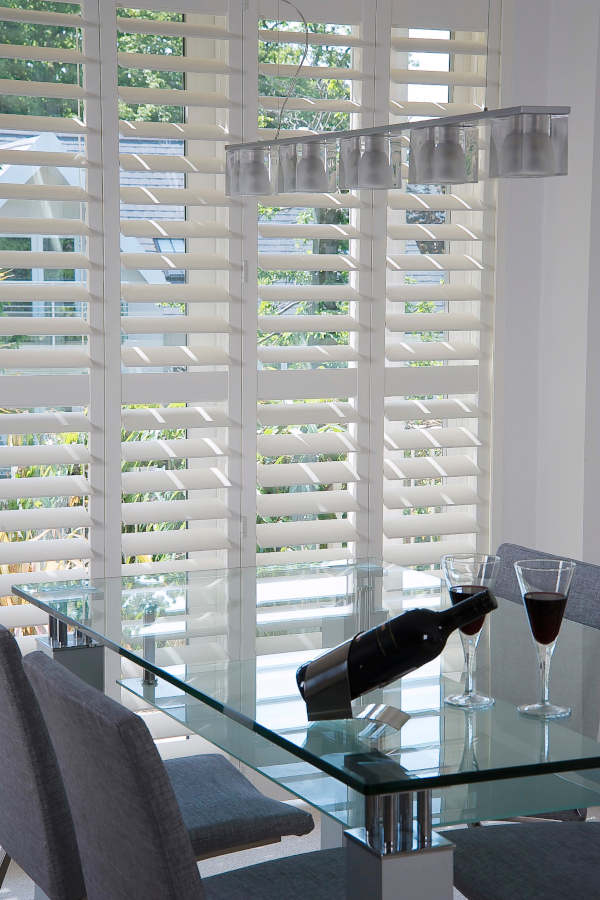 The benefits of shutters
They look good in almost any home
Shutters add class and refinement to any room.  The term 'plantation shutter' dates back to the window shutters used on sugar and cotton plantations in America's colonial south.   Given their rich heritage, it's no surprise the perception exists that shutters only work in older, traditional homes.   Whilst they do look brilliant in Victorian semis and terraced houses with tall ceilings and traditional bay windows, shutters look just as good in modern properties.  Contemporary painted finishes in greys, sage or duckegg blue create a distinctive, on-trend look.
Shutters add kerb appeal
If you take a look at the houses on any road, street, or avenue, there will always be properties which stand out from others. Of course, they will always be neat and well maintained.  But how you style your windows is another determining factor.  Plantation shutters make a striking difference, bringing style and finesse to any property.  Amidst a sea of vertical blinds, discoloured net curtains and tatty venetian blinds, shutters will add masses of kerb appeal to your home.
They are robust and durable, adding value
Shutters are solid, robust and durable.  Made from mdf, faux wood or sustainable hardwoods, they are installed as a permanent, structural feature of your home.  As a result, they can deliver return on investment by increasing the value of your property.
They have beneficial thermal properties
Shutters have brilliant thermal properties.  In summer, they regulate temperature, helping to keep your room cool. In winter, they add a solid, protective barrier, retaining heat in the area of a room where its easily lost.   Not only will you feel the difference, you'll see it in the savings on your energy bills.
Shutters are easy to maintain
Shutters are incredibly easy to maintain.  A regular wipe with a microfibre cloth and an occasional wipe down with a damp cloth is all that's needed.   Compare this with aluminium venetian blinds where its easy to damage a slat; curtains or roman blinds that need to be taken down and washed; or high-end feature shades that have very delicate vanes.
The disadvantages of shutters
They can be costly
Shutters aren't the most cost effective window treatment on the market.   Of course, they are more expensive than the vast majority of blind styles and curtains.  As they are made to order, to the exact measurements of your window openings, they can't be taken with you either.   The good news is they make a great investment in your property.  Assuming the rest of your property is in good order, it is evidenced that shutters can add value, or at the very least, be marketed as a key feature to maintain a selling valuation.
Its always worth asking for a budget quotation on shutters though. Entry level models in vinyl or painted MDF might be cheaper than you think.   This style isn't suitable for larger windows openings due to the weight, but if your windows are the right size, you might be pleasantly surprised at how affordable they are.
Lack of flexibility
As shutters become part of the fixtures of your house, you're making a long term commitment when you invest in them.  They make a very bold visual statement too, and will likely be the first thing you notice when you enter a room.  Of course, they look great, so this isn't usually a problem, but if you pick a bold colour rather than a neutral white, you may fall out of love with your shutters quicker than you thought.
What are the benefits of blinds?
Blinds are more versatile than shutters
Whilst shutters become a structural window feature, blinds are more flexible.  Given they are more affordable too, it makes it much easier to change your blinds whenever you change the layout or colour scheme of your room.   
Blinds also come in a wide range of styles, each with their own merits.  Venetian, roller, roman, vertical and twist blinds all have many beneficial characteristics. 
Fabric finishes mean a multitude of custom options
If you're looking to colour match to a sofa, flooring or furniture item, blinds are the perfect partner.  Nearly all blind styles are offered in hundreds of fabrics with different colours, patterns and textures to choose from.   Even with venetian blinds, which come in aluminium, wood or faux wood, there's a huge range of colours and wood grains to choose from.
The perfect choice for room darkening
We all love the benefits of natural light cascading into a room, but some rooms require darkness.   Black out blinds are ideal for people who sleep in the day, or for bedrooms exposed to stark street lighting.  Whilst shutters can be offered with an integral black out blind, roller blinds are a more affordable and straight-forward solution.
Automation Friendly
The rise of automation is bringing a raft of intelligent smart solutions into the home.  You already know that Alexa and Google Home can switch on your lights, and control your central heating, but did you know it can control your blinds?  Your blinds can be operated not only by the market leading smart speakers, but also by mobile devices, remote controls and other compatible smart hub products.
Great way to regulate light and temperature
We talked about the strong thermal properties of shutters.  The same can be said ifyou select the right window blind.   Market leading manufacturer, Luxaflex has a stunning range of window styling ranges which eliminate glare, massively reduce UV rays and keep rooms cooler on hot summer days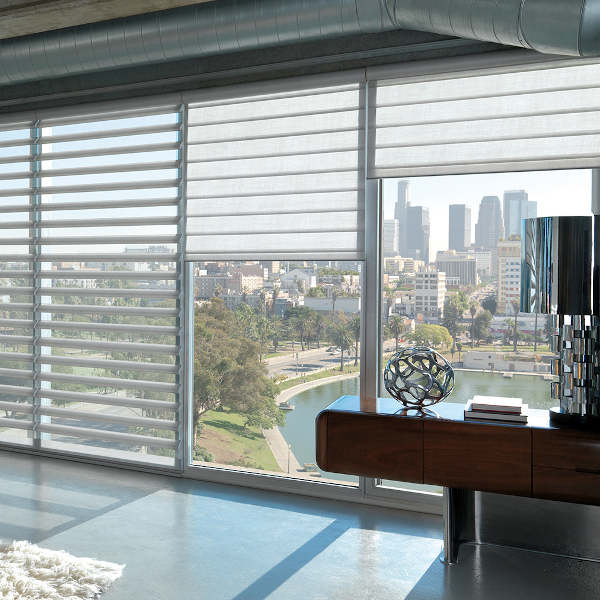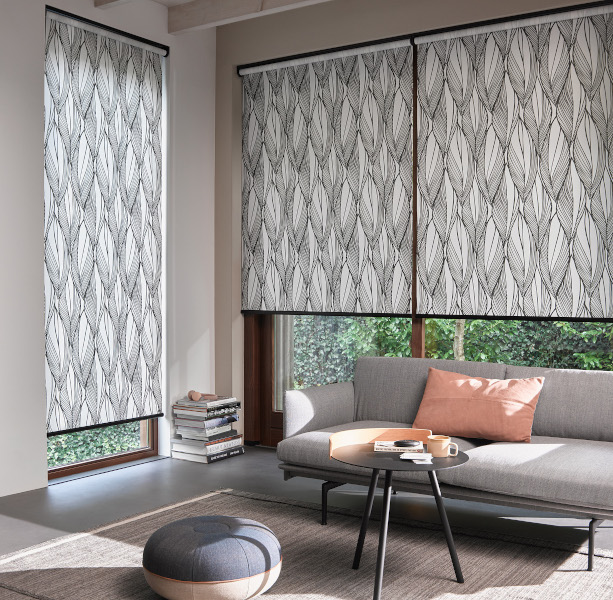 The disadvantages of blinds
Harder to maintain
Some styles of blinds aren't as easy to maintain compared to shutters.  Fabrics usually need to be washed or steam cleaned.   Aluminium venetian blinds are best cleaned by removing them from the window and soaking them in warm water.   
Some ranges are less durable
Compared to shutters, some styles of blinds are less robust and durable.  Blinds have more moving parts which with repeated use or mis-use, can break.  This could be the chain on a roller or vertical blind, or a delicate aluminium slat on a venetian blind can easily crease or bend if it's knocked.  Other blind styles offer more durability, such as wood venetians and there are more control options available which are more reliable than basic chain cords.
Final Word
It's clear that both shutters and blinds have their own merits, and share some qualities too.   It boils down to personal preference.  What's right for you and will be influenced by your budget, the style of your home, how light enters certain rooms in your house and whether you want to harness or control it.
It's not uncommon to mix shutters and blinds into a design scheme for your home.   Some clients opt for shutters to the front elevation of their property, then select a style of blind for the rear.
Our team is on hand to answer any questions you might have.  We offer free home consultations and can bring different samples to help you see different products and how they might work in each of your rooms.