SHUTTERS
Plantation Shutters
Plantation shutters are the fastest growing form of window styling in the UK.  Warrington based Mirmac's range of Shutters bring class, refinement and elegance to any room.   Not only do they look great on the inside, but they add kerb appeal to your property, making your house stand out from the crowd.
There are three key factors to consider when selecting the right window shutters for your home.  First, is which style to go for.   We list the twelve most common shutter styles, each of which have their own merits.
The second consideration is which material to opt for.  Our shutters are available in wooden painted mdf, faux wood, luxury hardwoods, a faux wood frame with hardwood slats and a water resistant ABS (acrylonile butadiene styrene).  The choice will usually boil down to budget, application and opening size (larger window openings mean heavier MDF shutters are unsuitable).
The third consideration is the room type – where your shutters are being installed.  Shutters look great in bathrooms, but in an environment which is prone to condensation and water exposure, it makes sense to select a water resistant product.
Plantation Shutters FAQs
What are plantation shutters?
Mirmac's  plantation shutters are window coverings made of wide louvers or slats that are typically 3.5 inches or more in width. Our shutters are available in wooden painted mdf, faux wood, luxury hardwoods, a faux wood frame with hardwood slats and a water resistant ABS (acrylonile butadiene styrene), and can be mounted inside the window frame or on the outside of the frame.
What are the benefits of plantation shutters?
Plantation shutters offer a number of benefits, including increased privacy, light control, and insulation. They can also add a stylish, timeless look to any room and can increase the value of a home.
What materials are plantation shutters made from?
Plantation shutters can be made from a variety of materials, including wood, vinyl, and composite materials. Wood shutters are popular for their natural beauty and durability, while vinyl and composite shutters are popular for their affordability and low maintenance requirements.
How do I clean my plantation shutters?
To clean plantation shutters, simply wipe them down with a soft, damp cloth. For stubborn dirt or stains, use a mild detergent and water solution. Avoid using harsh chemicals or abrasive materials that could damage the finish of the shutters.
How do I measure for plantation shutters?
To measure for plantation shutters, measure the width and height of the window opening. For inside mounted shutters, subtract 3mm (1/8 inch) from the width and height to allow for clearance. For outside mount shutters, add 50mm to 100mm (2 to 4 inches) to the width and height to allow for overlap.
How long does it take to install plantation shutters?
Our installation time for plantation shutters can vary depending on the size and number of windows being installed. Typically, it takes about 30 minutes to an hour per window to install plantation shutters.
Why Plantation Shutters Are a Must-Have for Homeowners
Are you looking to enhance the look and feel of your home? Look no further than plantation shutters! These versatile and stylish window treatments can do wonders for your home's aesthetic appeal and functionality. Imagine dressing up your windows with a timeless and sophisticated look that adds elegance to any room. And it's not just about the look – plantation shutters offer many benefits that make them a must-have for homeowners.
What Makes Plantation Shutters Stand Out?
Energy efficiency, privacy, durability, low maintenance, aesthetic appeal, and health benefits – these are just some of the features that make plantation shutters stand out. But what do they mean for you as a homeowner? Let's dive in!
Why You Need Plantation Shutters
Energy Efficiency: Plantation shutters can help you save on your energy bills by reducing heat transfer through your windows. With their adjustable louvers, you can control the amount of sunlight and heat that enters your home, keeping it cooler in summer and warmer in winter. Evidence suggests that plantation shutters can reduce heat gain by up to 45% during summer.
Privacy: With plantation shutters, you can block out unwanted views while still letting natural light into your space. No more peeping neighbours or prying eyes!
Durability: Made from high-quality materials like natural hardwoods, vinyl, and composite faux woods, plantation shutters can withstand wear and tear for many years with minimal maintenance. They're less likely to warp, crack, or fade over time, which means you'll save money on replacement costs in the long run.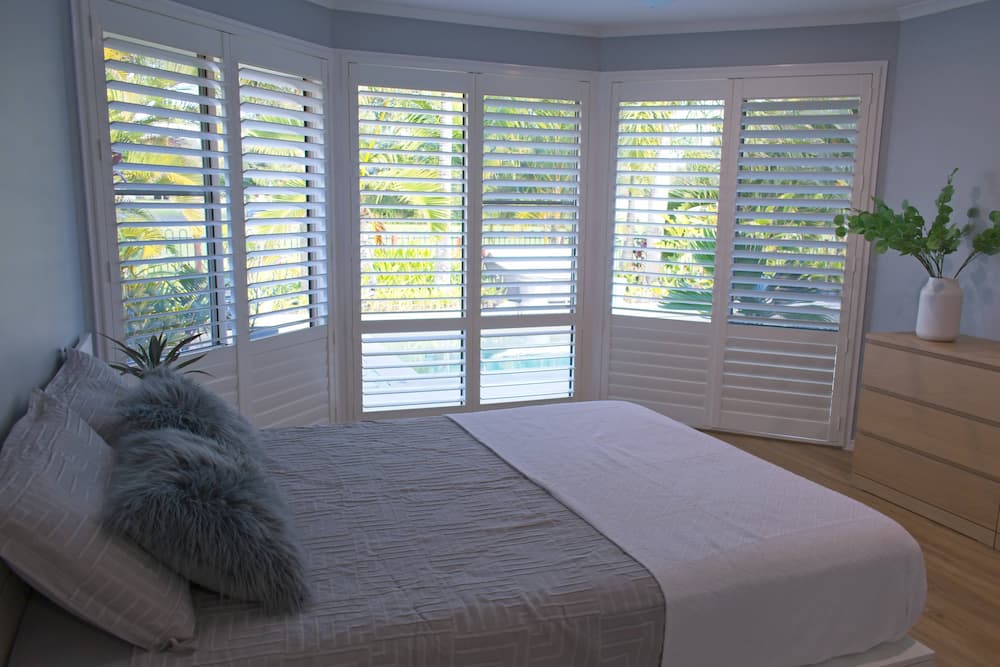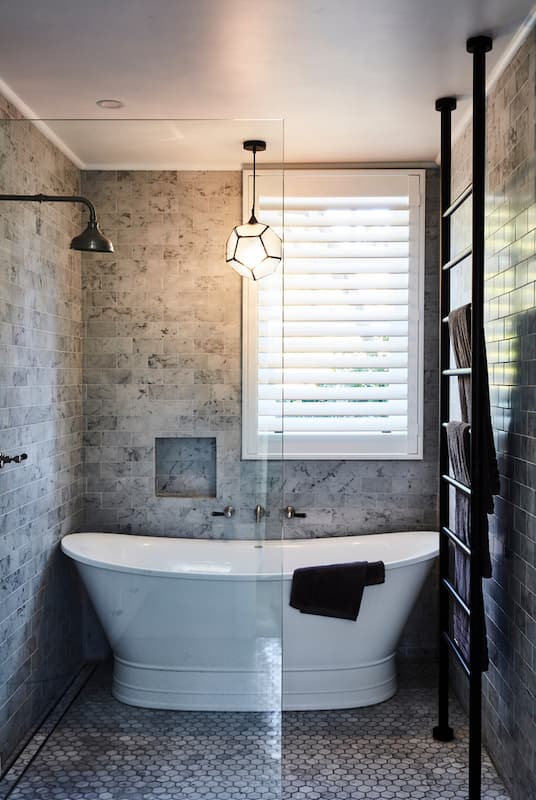 Low Maintenance
: Unlike other window treatments that require frequent washing or dry cleaning, plantation shutters only need a quick wipe with a damp cloth. They don't accumulate dust and debris like curtains or blinds, making them a perfect choice for those with allergies or asthma.
Aesthetic Appeal: Plantation shutters come in a variety of colours and finishes, so you can choose the perfect style to complement your home's design. Whether you prefer a classic or modern look, plantation shutters can elevate your home's style to a whole new level.
Health Benefits: Plantation shutters don't trap dust and other allergens like curtains or drapes can. They can also reduce the amount of outside noise that enters your home, making them a great choice for those living in noisy areas.
Improved Home Value: Plantation shutters add value to your home by creating a sophisticated and timeless look that potential buyers will love. It's an investment that pays off in the long run.
How Plantation Shutters Can Transform Your Home
Imagine walking into a room with beautiful plantation shutters, the sun filtering through the louvers, creating a warm and inviting atmosphere. You feel at ease, knowing you're in a stylish and functional space. That's the power of plantation shutters. They add character and charm to any room, transforming your home into a haven of comfort and style.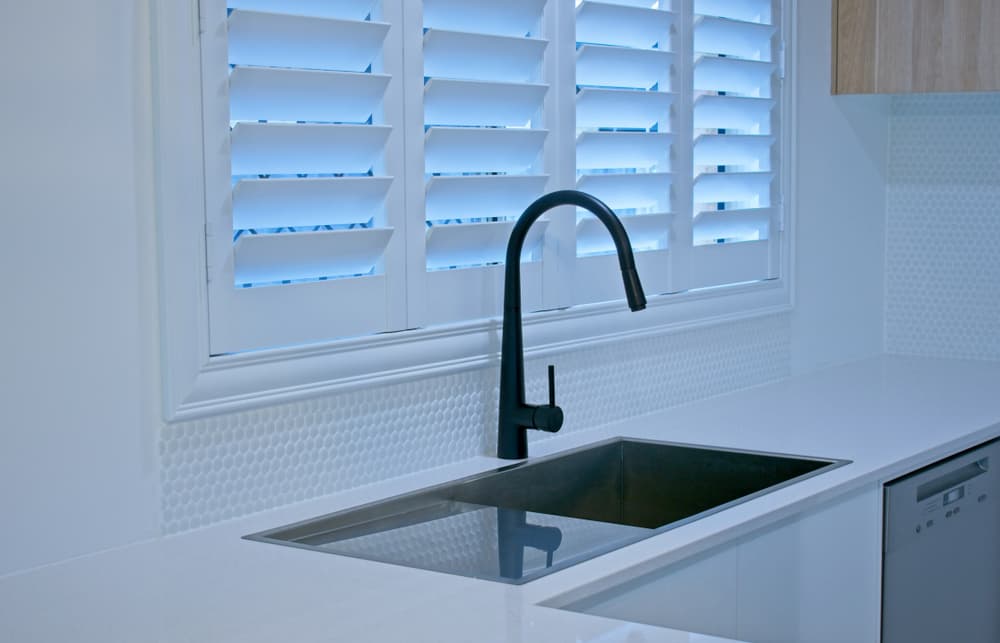 Get Your Own Plantation Shutters Today
Are you ready to elevate your home's style with plantation shutters? Contact us or visit our showroom in Warrington to see examples of our custom shutters. Our experts will guide you through the process of choosing the right style, colour, and material.
If you think blinds may be a better option for you, don't worry, we are one of Cheshire's leading providers of luxury window treatments. We are a proud dealer of Luxaflex window stylings.  Contact us today and arrange a showroom visit.
Awnings - Special Offers for 2023